ze tourist speaks
Montreal kicked ass, but I had no internet access from the apartment after all, hence my silence. I had hoped to go nuts with the camera, but just couldn't be bothered schlepping it around along with two instruments, a bunch of music, reeds, tools, etc. So I did manage to compose an appropriate still-life of my Baroque oboe, a bottle of "Cat's Pee on a Gooseberry Bush" New Zealand Sauvignon Blanc, a pear, a shallot, and my copy of
French Women Don't Get Fat
, against the charming exposed brick in my little
appartement
:
Speaking of the
appartement
, it was cute, homey, and had lovely French doors out to a wee balcony: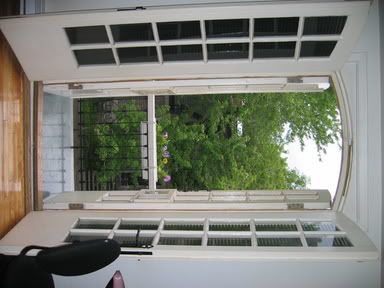 And that's about all I did, photo-wise. It could have been almost anywhere. But I was there, I swear!
The trip was splendid. I worked hard, played well, was complimented by the conductor, and had as profitable a time as I could have. I wish I'd been able to dine out a bit more, but it was sweet having a little kitchen and a grocery store half a block away.
I brought asparagus, with the intention of creating cream of asparagus soup. I neglected to bring a food processor, though, so it was more like mashed asparagus in a cream base, but it was still to die for. Because only I had to eat it, so it didn't matter one iota that it looked like Kermit vomit.
In Montreal, you can walk to the corner store and buy a wine beer, and VODKA COOLERS any time you want. I felt sooooo eighteen.
I also felt sooooo huge, being of more considerable body mass than most women I saw there. Montreal women don't get fat either, it would seem. Nor do they wear running shoes, ever - Only sandals at this time of year. I did bring sandals, but they weren't the greatest for the hours and hours of walking I longed to do. I tried to remedy that by going to the Bay for its St-Jean-Baptiste sale, but the floor of the shoe department was littered with odds and ends and sale-loving ladies, and no shoes I liked. So I de-Romanized and wore ze Keds I came in. No regrets. I was a Tourist, a Whale, and a deviant Sneaker-Wearer, but comfortable.