Our son's new toy and name.
Here is a typical communique from my dear family out in B.C. It came with a surprise parcel - not from my aunt or uncle, but from my uncle's sweet, sarcastic and alcoholic brother-in-law Jim. He sent us a
teddy bear
with relaxing aromatherapeutic qualities and a sleep mask. With its blue PJs and sleep mask in lieu of omnipresent sunglasses, it looks a bit like Jim.
I can picture my family out there getting into their cups, having a few dart games, deciding the fate of our boy's name, and penning their fanciest gift note: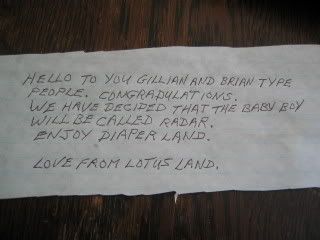 Where would we be without them?